When you require a bespoke fencing solution, you can guarantee that our Fencing Team can expedite!
We actually use the term Fencing as a general heading to cover a wide variety of our day-to-day activities. The main types of fencing we undertake are listed below, as our clients are predominantly commercial entities.
We have divided this section into two distinct areas - Security Fencing and Safety Barrier Systems.
Security Fencing
Palisade fencing
Our Palisade Fencing has Anti-Tamper Fixings and provides a strong deterrent against intruders and is a tough Galvanised Steel Barrier that is difficult to penetrate. It is supplied as either a standard galvonised finish or can be Powder Coated in a range of RAL colours. It is a Perimeter Security Fence that stands the test of time. The system we supply facilitates the inclusion of Gates that have tamper-proof hinges and guarded padlock fixings.
As with most of our fencing systems, it is possible to add a range of Anti-Climb Security Tops. Examples are Rotating Spikes, Barbed or Razor Wire or just the standard Spiked top.
Welded mesh fencing
Welded Mesh Fencing is a competetively priced, General Purpose Security Fencing System. The welded mesh panels have a series of 30mm spikes at the top and the panels themselves are fixed to 60mm x 60mm Steel Posts with Pin-Tork Security Fixings. Both the posts and galvanised mesh panels can be powder-coated to a range of RAL colours but we supply Dark Green as standard. The tough Polyester Powder Coating provides an attractive and robust finish. This system is ideal for fencing large areas economically, whilst still offering a formidable security barrier.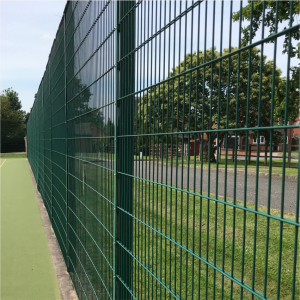 Chain link fencing
Our Chain Link Fencing System is an economical and relatively fast fencing system to install. It is formed from concertina shaped, galvanised steel wires that are inter-connected. They can also be powder or plastic coated in various RAL colours. The mesh is supplied in rolls and is rolled out along the length of the required fence. It is then attached to the installed posts which have been connected with supporting wires. A typically seen application for Chain Link Fencing is around Tennis Courts. It provides a degree of security for all but the determined intruders. It can be considered more of a visual deterrent and demarcation, or boundary fence than a high security fence.
Blast fencing
Blast Fencing is a specialised area that we undertake at airfields and there is more to it than meets the eye. Unrivaled forces can be emitted from aircraft in the jet blast. Levels that can easily kill people, damage property and even uproot trees and destroy buildings. In addition to these Typhoon-like forces hitting the blast fence, there can be a low pressure area set up behind the fence which also has to be taken into account. This is caused by the fact that most Blast Fences are erected and created to direct the blast upwards and safely out of the way of people, vehicles and structures. The low pressure can cause dust and debris to be lifted up into the turbulent airstream. Careful design and planning is key to reducing this problem. The use of multiple panels with different angles and even slotted surfaces all help to combat the adverse effects of the jet blast.
We understand the complexity of the problem and have had years of experience in producing Blast Fences in various locations. There are various materials that can be used, from Fibreglass or metal to cast concrete. These materials not only have to resist the extremes of energy but often high temperatures too.
Call us at JR Maintenance & Civil Engineers to discuss your
Safety Barrier Systems
Armco barriers
Call us to discuss a Site Survey to establish your requirements for Armco Barriers
Verge posts & bollards
Bollards are intended to primarily separate Pedestrians & Vehicles. We supply a wide range of fixed Bollards and Verge Posts which will stop vehicles encroaching onto a Pedestrian Area. But sometimes our clients require occasional vehicular access over what is normally a pedestrian zone. Removable Bollards are the perfect solution. Located and locked into position for the most-part they can stop vehicles from entering a given area. But when maintenance work like Grass Cutting or other task requiring the use of a service vehicle in that area, it is possible to unlock, remove or lower the bollards.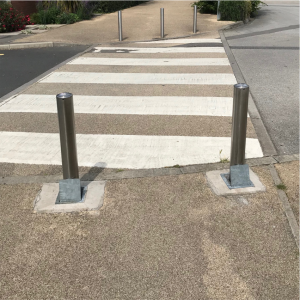 Crowd control barriers